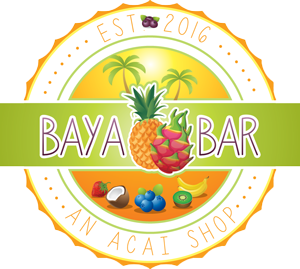 THE OPPORTUNITY
Baya Bar's founder, Bill Loesch, understands that franchise opportunities can move the concept national.
"My vision is to see our brand across the nation, to help people be more aware of what they are putting in their bodies," he said. "You need to be transparent about what's in your food."
The other benefit to creating a franchise system is helping others create their own businesses. Loesch says:
"I believe in this very strongly. I want to give this opportunity to other entrepreneurs. There are plenty of people struggling, people who don't love the "9 to 5 grind". I want to help other hardworking people build their own business. They may not know how to do it, but they can follow our process. We can help change lives."
In support of this vision, we are offering healthy food franchise opportunities to qualified entrepreneurs for a specialty acai bowl and juice bar retail and café business model, to operate under the trade name 'Baya Bar'.
Baya Bar offers healthy food options to customers & communities in a fun & positive environment, one bowl at a time. By offering the largest Acai bowls on the market that are also 100% organic, we are dominating each market we dive into. We are looking for Franchise Partners who wish to start (or convert) their own businesses, and who understand the benefit of building upon a proven business model and established Brand strength.
WHY CHOOSE US?
We know that you have many healthy food franchise opportunities available to you. However,
like our founder
, those who consider a Baya Bar franchise are looking for something beyond the ordinary, a business with a greater purpose. Do you want to create a meaningful business that not only generates revenue, but also brings healthful, tasty, nutritious snacks and meals to your customers? If so, you may be just the partner we are looking for!