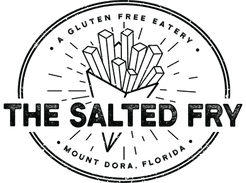 ABOUT THE SALTED FRY
What drives us as the founders of The Salted Fry is to provide an upscale eating experience with "fun" food for all our customers,especially those with gluten sensitivities and Celiac disease.Unlike many restaurants that offer gluten-free items, The Salted Fry is a 100% gluten-free eatery.
Our customers with gluten issues do not have to worry about cross-contamination or becoming ill after eating out. We also have many return customers without gluten allergies who dine with us and can't tell the difference. Most claim it's the best food they have ever eaten, as shown on our Google 4.8 star rating.We love our customers!
We offer a menu that includes deli sandwiches, panin is,delicious dipping sauces, desserts, beer, a self-serve wine bar,wine slushies, and more! We are also famous for our award-winning hand-cut french fries cooked in the Belgium style,better known as "frites".
After several years of experimenting with recipes, this french fry style earned the distinction to be called "The Salted Fry" and became the fry to fly our banner. Our fries are crispy on the outside and soft on the inside. The goal of The Salted Fry was to bring our customers the perfect french fries, along with an awesome gluten-free menu and we succeeded!
WHY THE SALTED FRY
The gluten-free industry was valued at $4.3 billion in 2019 and is growing rapidly. We have rooted our concept in this industry and are able to provide all the fun food people love while upholding our no gluten standards! People drive for miles to eat our food and become loyal customers for years. Our fun menu choice is 100% gluten-free along with our famous golden crispy frites.
Our franchises are easy to operate, manage, and designed for high volume that produces generous returns! The Salted Fry is a unique, low-cost concept with excellent profit margins. This is a fun-food opportunity for gluten-free lovers or anyone looking to own a unique and growing brand!
SUPPORT
We will provide support in many areas including unit operations,product ordering, pricing guidelines, and administrative procedures as well as media and marketing materials.
You will also be given access to our Standard Operating Procedure manuals online, which includes updates.
FRANCHISEE QUALIFICATIONS
We'd love to find franchisees who share our passion for providing a variety of gluten-free meals with their community!
– Customer-first mentality.
– Past restaurant experience if possible.
– Family-like customer service skills.
– A Passion for making a change in their community.
INVESTMENT INFO
Franchise Fee: $30,000
Initial Investment Range: $130,700-$234,400
Royalty Fee: 6% of gross sales
OWNERSHIP PROCESS
Introduction
Complete our form on our website and we will reach out toprovide you with more information.
Initial Contact
We will schedule an in-person or remote meeting to review your application and discuss details as we begin our partnership.
Scheduling
Our franchise development representative will schedule a visit to our corporate location. This will be the time to ask questions and get a feel for how Salted Fry has operated successfully.
Review
Next, our team will send you a copy of the Salted Fry Franchise Disclosure Document (FDD) for you to review. You will have 14 days to review the document.
Financial Assistance
After the FDD review, this is the time to apply for financing if needed!
Franchise Approval
Once we have all decided to move forward, you will review The Salted Fry FA (franchise agreement), sign the appropriate documents, and make your franchise ownership official.
You are now The Salted Fry franchise partner!
To get started, fill out the franchise form or visit our website at https://www.thesaltedfry.com
Details
| | |
| --- | --- |
| Contact Phone: | 978-886-7908 |
| Contact Email: | [email protected] |
| Contact Title: | Franchise Sales |
| Franchise Fee: | $30000 |
| Initial Investment: | $180,900-$316,850 |
| Lead Email: | [email protected] |