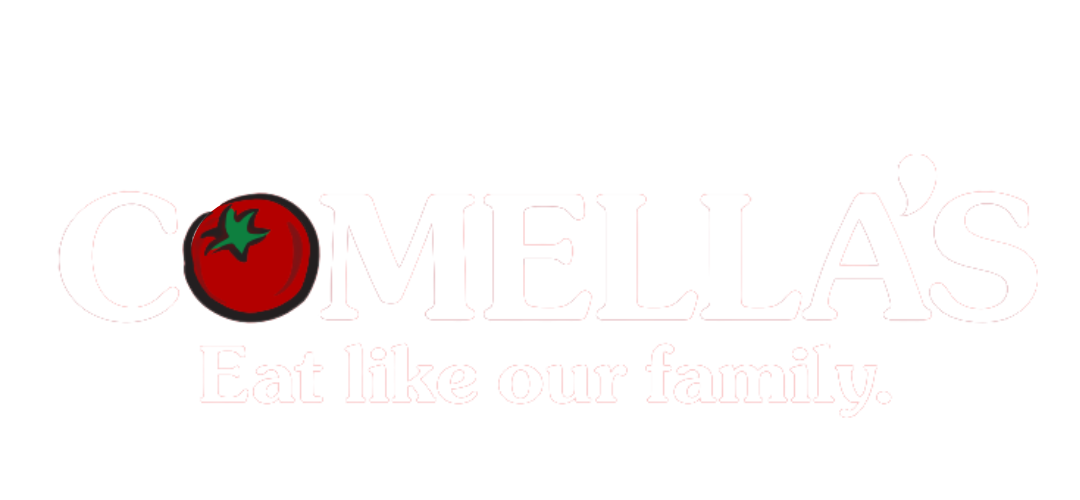 NOW IS THE TIME TO JOIN AN ITALIAN FOOD BUSINESS MODEL WITH DECADES OF SUCCESS
If you are looking to join a franchise with a proven track record for profitability in a highly lucrative industry, a Comella's opportunity can't be beaten!
Comella's is a place where anyone young or old, professionals, laborers, students, and families alike can be served homemade Italian food at affordable prices. The food service market has surpassed two billion in value and is projected to increase as the trend for dining out of the home grows. Our business model can be easily replicated by franchisees and is expected to expand quickly to make Comella's a household name and a national brand in the restaurant industry. We outdo our competition at every corner as we remain committed to maintaining the utmost quality in our ingredients, cooking, and customer-service in a family-friendly atmosphere. It is our commitment to our customers that sets us and our franchisees up for great future success.
Comella's, 1988 & The Future!
In 1988, after 18 years in corporate America, I believed that the Boston suburbs, needed a family oriented food retailer. A place where anyone, young or old, professionals, laborers, students, and especially families, could buy homemade Italian foods at very affordable prices. The idea was implemented at the first Comella's, opened in Wellesley Hills, Ma. We prepared fresh pastas, sauces and dinners to be served at your home or in-house at Comellas.
For over three decades, that hasn't changed and we still make our products by hand, using the highest quality ingredients. We even added our award-winning pizza to the menu! My three sons, JP, Matt and Greg, after college and other professional positions joined the company. JP was the first to join, graduating from BC in 2002, after playing for the Eagles and completing a stint with the Arizona Cardinals. Matt, was next graduating from Northeastern, where he captained the football team and then enjoyed time with the New York Jets. Finally Greg, graduated from Stanford, playing for the legendary Bill Walsh. Greg played seven years in the NFL and started in Super Bowl 35 for the New York Giants versus the Baltimore ravens.
The lessons learned by them were invaluable. Toughness, overcoming adversity and never giving up, would be key to helping grow the company successfully. Today, their focus has enabled us to open 11 Comellas, own locations and be poised to franchise our concept nationally. The future is brighter than ever, as our products and pricing fit the economic conditions of the times, more so today than ever before.
BENEFITS WITH THE COMELLA'S TEAM
When you join Comella's, you're joining a legacy of entrepreneurial success. We offer you a great variety of benefits that set you up to achieve your greatest potential in the restaurant business. Comella's is proud of their ability to serve everyone, their exclusive territories for early adopters, their reliability in generating profit, and unmatched experience that will provide you with all of the essential knowledge to succeed.
Multiple Revenue Streams
Whether you're coming in two, bringing the whole family, or you want the meal brought to you, Comella's has your back. It is our ability to serve fantastic food fast to any size group that creates a strong potential for ROI. We can feed the largest parties in mere minutes, ready to welcome in the next group soon after. To top it all off we offer catering to all types of events so that our loyal customers are never left without their beloved Comella's!
Exclusive Territories
Comella's is offering exclusive territories as a key benefit to our early adopters. These territories will have large populations within a close radius to the franchisee's location. Customers will be walking distance from a fun family dinner, making you only a few steps away from success.
Reliable in Success
Comella's has been serving food since 1988 and has introduced several successful franchises since its opening. We give our franchisees the ability to operate their own locations in new markets without the added stress of significant cost and management responsibilities. This is something our competition cannot offer with widely distributed and unregulated franchises.
Experts of the Industry
Our management team has extensive background knowledge in restaurant ownership. We have experience in hands-on management techniques, efficiently operating a franchise with proven practices, and creating profitability through our sound business model. After 35 years, we've learned how to compete in business and work towards achieving success!
JOIN THE COMELLA'S FAMILY
A Comella's franchise is perfect for an entrepreneur with the following qualities:
Customer-service oriented
Strong time management skills
High personal standards
Understands cost management
Passion for quality food service

COMELLA'S IS BY YOUR SIDE
As a family-owned business, Comella's strongly believes in supporting every member of our team. We put this belief into practice by providing all of our franchisees with excellent training and ongoing support. You're never alone when you join the Comella's family!
Comprehensive Training
An extensive dual-phase initial training program will help set up our franchise partners with all the knowledge they need to run a Comella's.
Operational Support
Comella's is proud to have an experienced support staff that will offer assistance to all of our franchisees. Operational support will include guidance in unit maintenance, product ordering, food preparation, pricing guidelines, and administrative procedures.
Marketing Support
Adding on to the operational support, Comella's also offers marketing support to its franchisees. This support includes guidance in the development of marketing materials and strategies. We will also supply franchisees with consumer marketing plans and assist with any local advertising materials the franchisee wishes to develop.
Additional Support
Support with Comella's isn't limited to just marketing and operations, we are there to guide you in all of the areas essential to your business's success. We will negotiate on behalf of our franchisees for quantity discounts, provide site selection services based on up to date demographics, oversee financial and legal matters for all franchisees and continue to research techniques for the most effective franchise operations.
FRANCHISE FEES
Franchise Fee: $35,000
Est. Minimum Initial Investment: $182,150 (including franchise fee)
Royalty Fee: 5% of gross sales
START YOUR JOURNEY TO SUCCESS TODAY!
Comella's is happy to serve our homemade dishes to all walks of life. We have unrivaled benefits for all of our franchisees including exclusive territories and reliability to create steady profit.
To get started, please fill out the franchise form or visit our website www.comellasrestaurants.com
Details
| | |
| --- | --- |
| Contact Phone: | 978-886-7908 |
| Contact Email: | [email protected] |
| Contact Title: | Franchise Sales |
| Franchise Fee: | $35000 |
| Initial Investment: | $182,150 (including franchise fee) |
| Lead Email: | [email protected] |